25" x 26" - 2016
Private Collection, UK
This piece is a continuation of my exploration in fabric of fire scenes. It depicts a field of fireweed carpeting a burn path from the Fort McMurray forest fire of 2016. It also symbolizes the power of regrowth and renewal and it is my hope that in time Fort McMurray will be surrounded in color. It is made with a combination of commercial and hand dyed fabrics.
Mountain Blaze - PLaying with fire
27.5" x 19"
Second Place, Original Design Abstract Pictorial
Canadian Quilt Association National Juried Show 2015
This art quilt was inspired by an article and picture about the destructive forest fires in Northern Alberta that was published in the Calgary Herald in the summer of 2012. I love the contrast between the orange and black in a linear way - also the contrast between the horizontal and vertical trees on fire.
I incorporated my own dyed fabrics into the piece.
12" x 12" - Nov 2017
Silently… singularly… I fly over lush underwater gardens, weightlessly, exploring, scouring and searching for hidden life that does not want to be discovered. I am a true explorer on every dive, witnessing a small section of the world's oceans. It is endless but fragile in its balance. All life fighting against man's impact and disruption. We must be so quiet and respectful of this place. It is a delicate balance.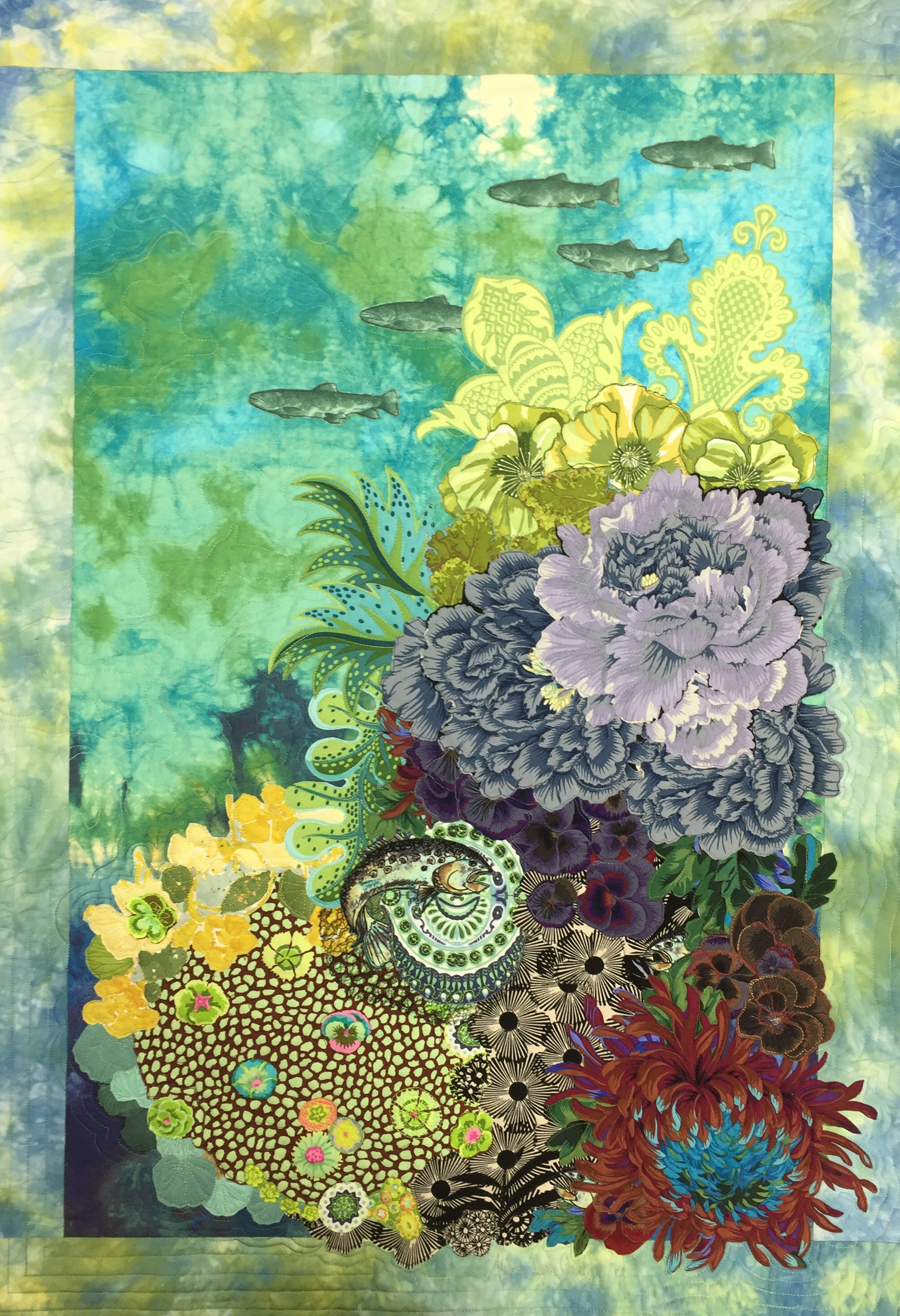 24" x 36" - Jan 2017
Private Collection - Kansas, USA
Inspired by bold floral printed fabrics and underwater experiences I set out to interpret my scuba diving experience underwater. Mixing hand dyed fabrics and commercial motif patterns designed and collaged an ideal underwater garden.
8.5" x 11" - Feb 2018
Touring with FAN exhibit From a Tiny Seed
I am continuously inspired by my experience scuba diving and the diversity of life in the ocean. Like a garden scape of life so rich and colourful, this work started from a seed, ideas and decisions nurtured one after another. I am a true explorer on every dive, and artistic challenge.
8.5" x 11" - 2018
While exploring the theme "Into the Wilderness," I wanted to continue my exploration and fascination with "fire." Both concepts play a complex role in the world's ecosystem. In this journal piece, I tried to capture the contrast of heat in the use of yellows and bright oranges with smoky blacks and mixed metallic fabrics, threads, beads and metallic painted leaves to create some dimension and the illusion of flames.
24" x 12" - 2016
The Prairie Crocus is the first plant to bloom in spring. Its light and delicate disposition is a striking contrast to the rugged and harsh conditions in which they exist. I think of Prairie Crocus as the 'ears of the earth' - at first thaw and with hearty determination they break free from winter's grasp. They turn in the warm westerly winds and listen for summer's return.
Photo inspiration with permission by Neil Zeller.
30" x 48" - 2015
3rd place overall - Quilts
2015 Calgary Stampede Arts and Crafts Showcase
Private Collection - Calgary, AB
This quilt is my first commissioned work. Friends were inspired by my first fire piece, Mountain Blaze – Playing with Fire.
I said that I would remake it larger for their liking.